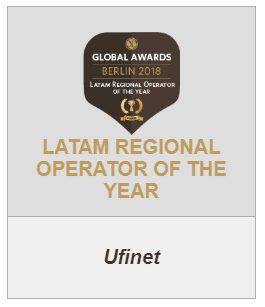 UFINET wins Carrier Community Global Awards – LATAM Regional Operator of the Year!
The Carrier Community (CC) successfully hosted its annual CC Global 2018 Awards in Berlin during CEE 2018 GCCM, being UFINET one of the proud winners.
More than 80 guests attended the exclusive event with 24 winning companies celebrating their achievements. The CC Global Awards were presented at the Central and Eastern Europe CEE 2018 on June 18th, 2018 at BESL Meistersaal Berlin. The awards recognized innovation and achievements among member telecom wholesale operators around the globe and were independently judged by a panel of 13 telecoms analysts and experts from the industry.
For more information about the winners please visit: https://www.carriercommunity.com/cc-global-awards-2018/#winners